There are few sandwiches as beloved as the cheesesteak. Of course, the cheesesteak was created and perfected in Philadelphia, PA as a regional food favorite. But the cheesesteak has a nearly century-long history and has seen lots of changes as its popularity expanded across the United States and around the world.
Who invented the original cheesesteak?
The original cheesesteak was credited to Pat and Harry Olivieri, two brothers who ran a hot dog stand near South Philadelphia's Italian Market. Legend has it that in the 1930s, the brothers wanted to offer new sandwiches. Their new item was grilled beef and onions in a toasted roll. The OG sandwich didn't actually have cheese! Once the sandwich gained popularity, a manager at the Olivieri's Ridge Ave. location added provolone to the sandwich in the 1940s. And thus, the cheesesteak was born.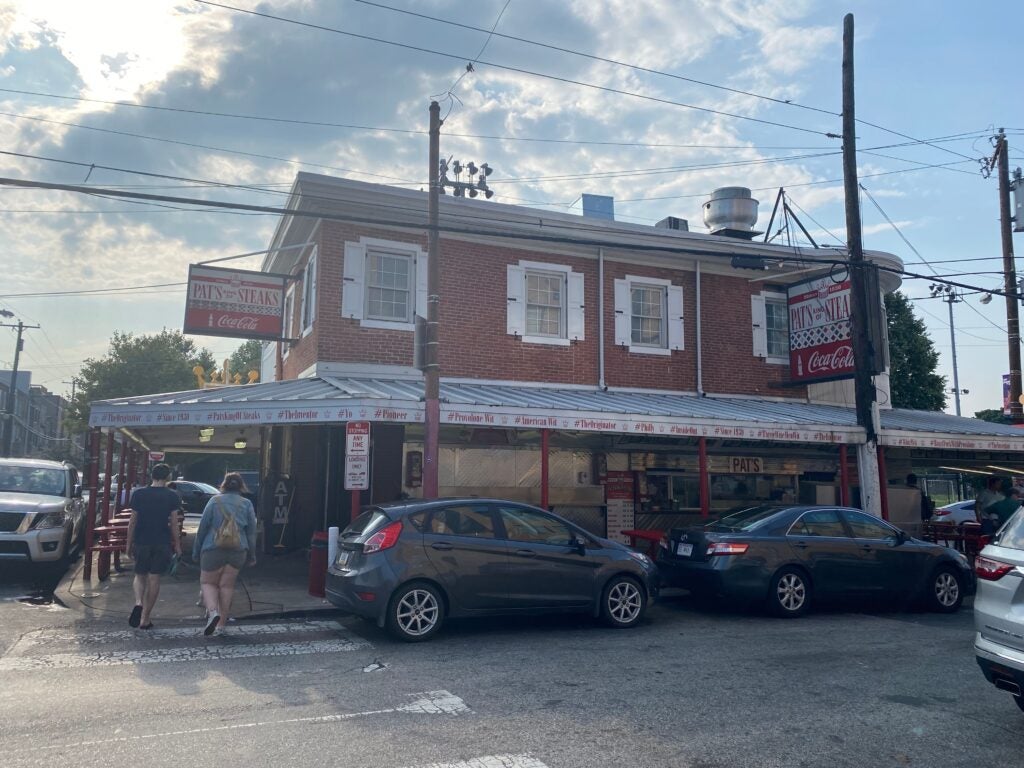 What is the early history of the cheesesteak?
Cheesesteaks caught on like wildfire, and in the 1960s Geno's opened directly across the street from Pat's. The two businesses have been in friendly competition ever since! In the decades that have followed, Philadelphia has seen new restaurants offer unique twists on the cheesesteak. From John's Roast Pork, which features cheesesteaks, roast pork sandwiches, chicken cutlets, and more, to Max's Steaks in North Philadelphia where you can get a cheesesteak as long as your arm. These restaurants, and plenty others, have developed their own twists on the original formula and have produced generations of die-hard fans.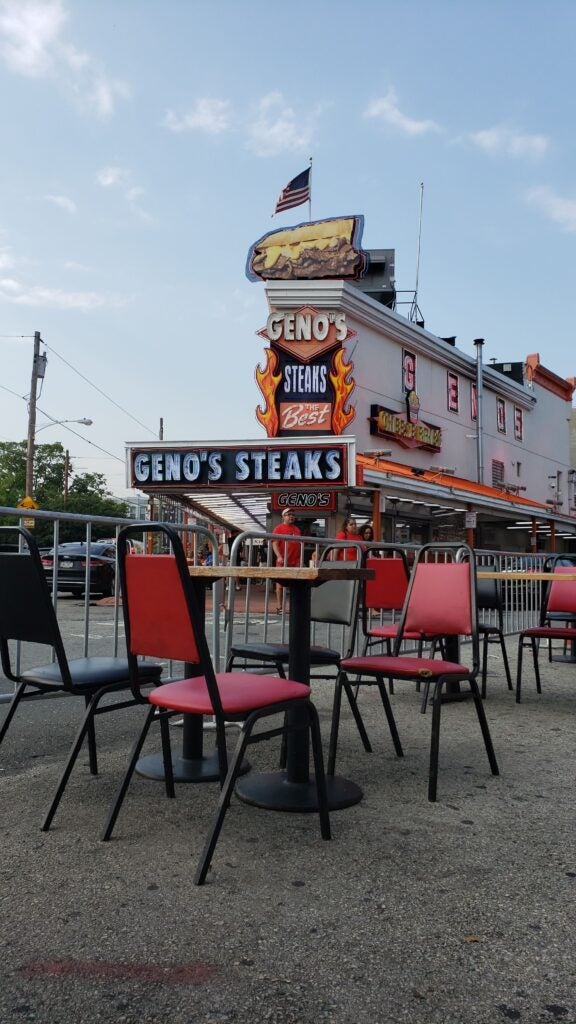 How do you make a cheesesteak?
Although the original recipe of steak, onions, and cheese has its die-hard fans, cheesesteaks have evolved over time to incorporate new ingredients and flavors. Chicken cheesesteaks have become a staple item at many restaurants, although it isn't clear when chicken was introduced as a variation. Expanding menus to feature new types of meat has allowed for new flavor combos, too! Pizza cheesesteaks combines the classic flavors of grilled sirloin steak and provolone with marinara sauce. Chicken cheesesteaks come in lots of varieties too, from the classic philly style to spicy buffalo with bleu cheese.
Bring the heat.
Speaking of spice, over time peppers have become a beloved cheesesteak topping – but it wasn't always that way! Green peppers are a staple in many steak and chicken cheesesteak recipes (along with onions and mushrooms), which add dynamic flavor to the grilled meat. Heat lovers might find hot cherry peppers, long hot peppers, or banana peppers available as garnish or cooked into their steak for added spice.
The roll holds it all together.
Meat, cheese, and toppings are important parts of a cheesesteak, but we can't forget what holds it all together…the roll. Many Philly restaurants swear by Amoroso's hearth-baked rolls for their cheesesteaks. This Philly-based bakery has been operating in Philadelphia since 1915 and has sold their rolls across the United States. Amoroso's rolls are famous for their crunchy, firm exterior with soft bread inside – perfect for keeping the cheesesteak intact and absorbing flavor when you take your first bite. Other bakeries, like Merzbacher's and Cacia's Bakery, also supply rolls for restaurants and home chefs.
Top it off…hoagie style.
Over time, new toppings have been added that challenge the traditional idea of a cheesesteak. We're looking at you, lettuce and tomato! Cheesesteak hoagies contain all the classic cheesesteak ingredients – meat, cheese, cooked veggies on a toasted roll – with cold toppings added on top. Hoagies were also invented in Philadelphia, PA during the early 20th century. As cheesesteaks evolved, so did hoagie sandwiches, eventually giving way to the hoagie cheesesteak.
How have cheesesteaks changed over time?
As the cheesesteak has evolved, new ingredients have been added. The original cheesesteak featured grilled onions, which add zingy sweetness to the grilled steak. Now, lots (not really – most do not, just ours) of cheesesteaks come with grilled bell peppers and mushrooms to round out the flavor, including our Steak Philly Cheesesteak. (although we admit peppers and mushrooms weren't part of Pat's original recipe). Lots of restaurants offer pickled cherry peppers on the side, or hot peppers cooked into the steak for spice lovers.
Although Pat's original recipe used provolone cheese, the classic cheesesteak cheese has evolved over time. Many locations, including Geno's, use Cheez Whiz to make their cheesesteaks, while other use melted American cheese. Pat's transitioned to Cheez Whiz in the 1950s. In a 1985 interview, Frank Olivieri (nephew of Pat Olivieri) claimed that he used Cheez Whiz for the same reason that millions of parents used it for their kids' lunches – it was fast. Although provolone helps keep the meat together, Cheez Whiz saturates the roll to give you a super satisfying, drippy-messy-delicious experience. If you're visiting Philadelphia, the classic cheesesteak is best ordered "wiz wit", for a cheesesteak with Cheez Whiz and grilled onions. Now, Cheez Whiz is the overwhelming favorite at Pat's and Geno's.
Where does Charleys Cheesesteaks fit in?
In 1985, Charley Shin took a spring break trip to Philadelphia and came back a changed man. After sampling Philly's finest, he wanted to bring cheesesteak flavors to back to Ohio, where he was attending college. Charley founded Charley's Steakery in a small restaurant just off the Ohio State University Campus. Over the years, Charleys Cheesesteaks grew and expanded to mall food courts, air force bases, and neighborhood grills across the United States and around the world. As the Charley menu has changed and evolved, we've incorporated new and classic cheesesteak flavors (including topping our cheesesteaks with pickles). We believe that there's a cheesesteak out there for everyone.
What does the future hold?
The cheesesteak has a long and storied history, and the future looks bright. Cornerstone Philadelphia restaurants like Pat's and Geno's (and plenty others) are bringing in new fans to Philadelphia every day, and the cheesesteak is being adopted by restaurants as an alternative to cheeseburgers and chicken sandwiches. We hope that new fans discover cheesesteaks as the ultimate comfort food, whether you're enjoying an OG cheesesteak at a Phillies game, snagging one on the road, or just demolishing some comfort food on your couch.
As cheesesteak fandom grows and evolves, we hope see to see the definition of cheesesteak continue to grow and evolve. Although the original cheesesteak started with steak, onions, and provolone, we now consider provolone and Cheez Whiz sandwiches as classic cheesesteaks. Same with green peppers – some cheesesteak lovers can't live without them. What started in the 1940s as steak, cheese, and a toasted roll can now include any grilled meat with new toppings, cheeses, and sauces. Whether you're a fan of pizza cheesesteaks, buffalo chicken, Mediterranean styles, or vegan offerings (major shout-out to Joe's Steak and Sodas), there's a cheesesteak out there for you.