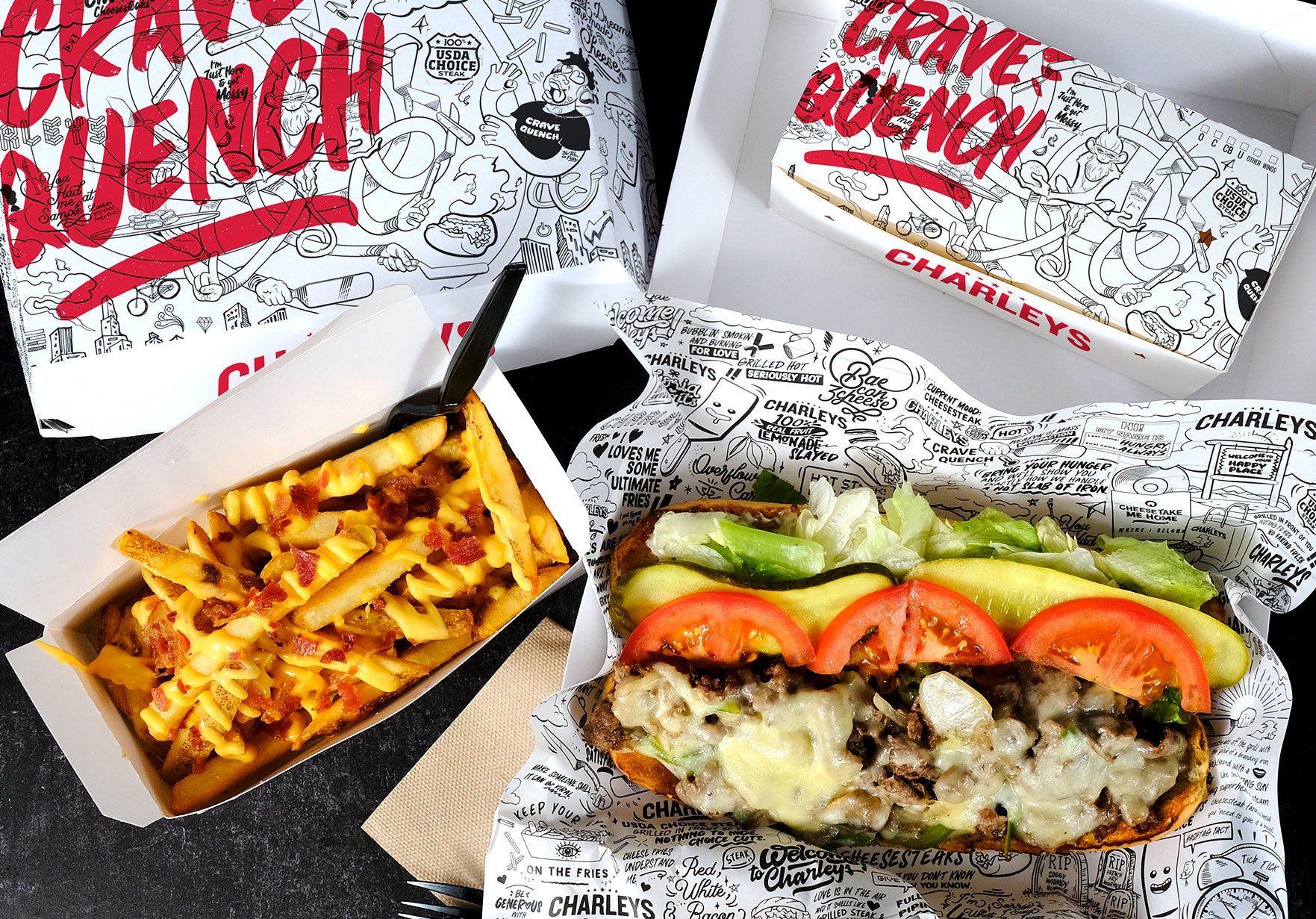 GET $5 RIGHT NOW.
Just download our app.
With Charleys Rewards, you earn points on every dollar you spend. Points = free food! And who doesn't love free food?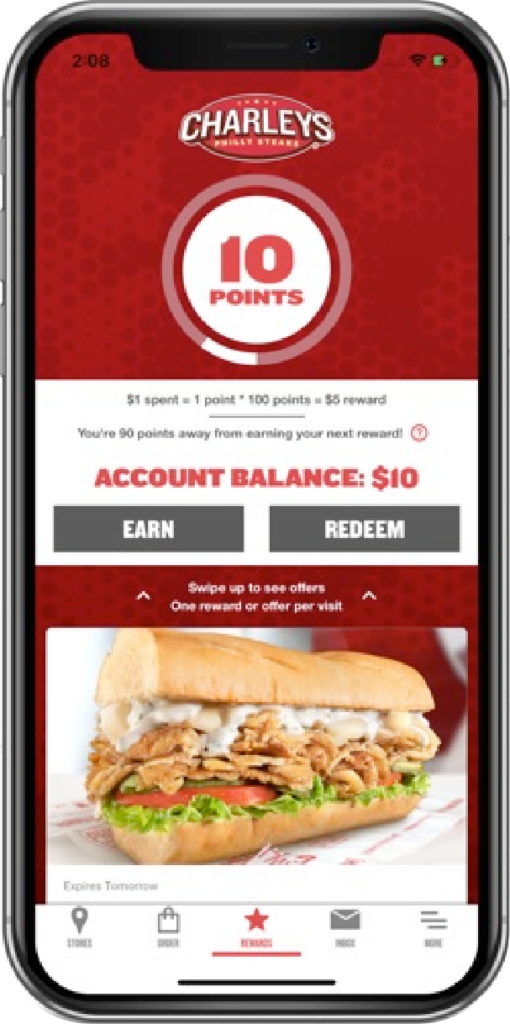 But wait! There's more…
Rewards members can enjoy perks like:
$5 off when you download the app

Points with every purchase (points add up to free food!)

DOUBLE points when you order online

Exclusive offers and sneak peeks

Order ahead & skip the line®

Free food for your birthday and app anniversary
Download on the App Store
Get It On Google Play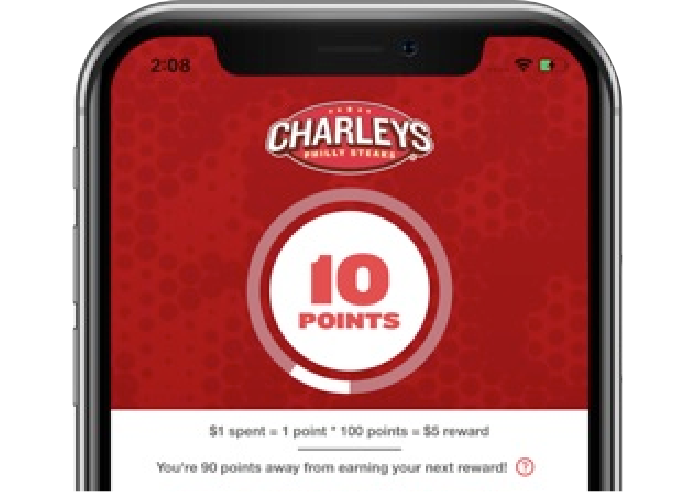 Frequently Asked Questions
What is Charleys REWARDS?
Eat. Earn. Score! You'll earn 1 point for each dollar spent at Charleys. Points add up to rewards, like FREE FOOD! Download the Charleys Rewards mobile app today to start scoring!
HOW DO I PARTICIPATE?
You have to be a registered Rewards member to participate in Charleys Rewards. All you have to do is download our app in Google Play or the App Store and create an account! You can also create an account online, but only app users get $5 off their first order.
If you were a rewards member prior to January 2020, you need to download the new app (be sure to use the same email address) and follow the instructions in the app.
DO I NEED THE APP IF I'M SIGNED UP FOR ONLINE ORDERING?
While you can place orders at order.charleys.com, the app is the easiest way to place pickup and delivery orders on-the-go! With the app you can also manage your account, get rewards, and be in the know for what is happening at Charleys. App users can easily check their points balance, access rewards, and receive special offers throughout the year. Plus, Charleys Rewards members can scan the app at every Charleys location to earn points and redeem rewards. Members who only use online ordering can still earn and redeem rewards online when they create an account but miss out on the convenience of earning and redeeming at the cash register in-store.
WHAT DO I GET FOR JOINING CHARLEYS REWARDS?
You'll receive a $5 off reward in your account after downloading the app for the first time, and many more offers and rewards over time as you use the app.
HOW DO I BECOME A CHARLEYS REWARDS MEMBER?
The easiest way is to tap or click the above links to download the app. You can also search for "Charleys" on the Apple Store or Google Play. You will be automatically entered into the rewards program, and start earning rewards, when you register for an online ordering account on Charleys.com, but we recommend downloading the app to access those rewards. App users will already be signed up for online ordering rewards with a single user profile.
CAN ANYONE BECOME A CHARLEYS REWARDS MEMBER?
Yes, everyone 13 years or older can be a rewards member.
IS THERE A COST TO JOIN CHARLEYS REWARDS?
No, it is completely free to join and earn rewards.
HOW DO I EARN POINTS FROM MY PURCHASES?
If you order online while logged into your rewards account or through the Charleys app, you will automatically receive points from that purchase. In a restaurant, you will need to scan the QR code from your app at checkout. You can also take the receipt and log it onto your account via the app or online within 14 days.
WHAT IF I FORGET TO ENTER A RECEIPT FOR POINTS?
If you did not order online, through the app, or scan your QR code at checkout, you must enter your receipt for points. Receipts can only be added to your account for points within 14 days of your visit.
WILL I EARN POINTS IF I PLACE AN ORDER ON A THIRD-PARTY APP OR WEBSITE?
Nope. We can't award points for any orders placed on third-party apps or websites (DoorDash, Grubhub, etc.). If you want to earn or redeem points with your online order, be sure to use your Charleys Rewards app, or place your online order at Charleys.com.
WILL I EARN POINTS WHEN I PURCHASE A GIFT CARD?
No, you will not earn points when you purchase a gift card; the end user will earn the points when they use the gift card. For example, if you purchase a gift card for Matt, Matt will earn points when he uses his gift card to pay for his meal.
DO I GET POINTS FOR PURCHASES I MADE BEFORE I JOINED THE PROGRAM?
If you signed up recently and want to earn points for those purchases, you can scan your receipt from your most recent purchase and get points. If you are a new member to Charleys Rewards, you will start earning points after joining.
I TRIED TO SCAN MY RECEIPT BARCODE FOR POINTS, BUT IT DIDN'T WORK.
Good news- you may have already received your points! If a scan does not work, check your account history in the app because the points may already be there. Also, check the date on the receipt. Barcodes on receipts expire after 14 days. Finally, you can only scan a barcode to earn points once every three hours, so if you scanned recently, be patient and try again later.
If these explanations don't work, we can help! Just let us know the situation and we'll figure out what happened. Send the barcode number to rewards@Charleys.com, along with your name, account email, or phone number associated with your account, and we'll sort it out.
HOW DO I REDEEM A REWARD?
In the app, you can use the "Earn" and "Redeem" buttons on the home screen to easily generate a QR code that we will scan at the cash register. This will give you access to a list of available rewards. When ordering through the app, you can select a reward to use while placing your order.
If the barcode does not scan, don't worry! The cashier can look up your information by phone number or email address.
CAN I USE MULTIPLE REWARDS AT ONCE?
No. You can only use one reward per order.
WHAT IF I HAVE REWARDS, BUT I DON'T LIVE NEAR A CHARLEYS?
Unfortunately, if you are in a situation where you no longer live near a Charleys, we are unable to credit you for any unused rewards. Rewards have no cash value.
CAN I HAVE MORE THAN ONE REWARDS ACCOUNT?
Each guest can only have one Charleys Rewards account.
I'M HAVING PROBLEMS AND DON'T SEE THE ANSWER HERE.
Just send an email to rewards@charleys.com with your problem or question, along with some information about you (name, account email, account phone number) and we will do our best to get things fixed quickly!