We get it…whether you're into the football game or just there for the food, game day watch parties build up an appetite. And nothing conquers game day cravings better than hot melty cheesesteaks! Let Charleys cater to your watch party needs (get it?) by placing an order for catered Boxed Cheesesteak Meals or Chicken Wings. Charleys' catering can accommodate parties of any size, and items are now available for same-day ordering!
I'M JUST HAVING A SMALL GAME DAY PARTY—DOES CATERING MAKE SENSE?
Whether you're hosting a small get-together or large gathering, our Boxed Meals are the perfect catering option. Let's face it – if you're there to watch the football game, you want to focus on the game. There's nothing worse than spending the second quarter deciding where to order your halftime snacks from.
WHAT DO I GET IN A BOXED CHEESESTEAK MEAL?
When you order a Boxed Cheesesteak meal, you can enjoy an individually packaged small, regular, or large Cheesesteak, with your choice of chicken, steak, or veggies (extra peppers, onions, and mushrooms) as the base. Each Boxed Meal Cheesesteak is topped with grilled veggies and melted provolone cheese and served on a toasted roll. The veggie Cheesesteak also comes with lettuce and tomatoes. Miss Vickie's Chips, Sandy's Amazing Cookies, and Dasani bottled water are available to add on to the Boxed Meal for an additional fee. Mustard and mayonnaise packets are available on the side, so you and your guests can add as much or as little topping as you want.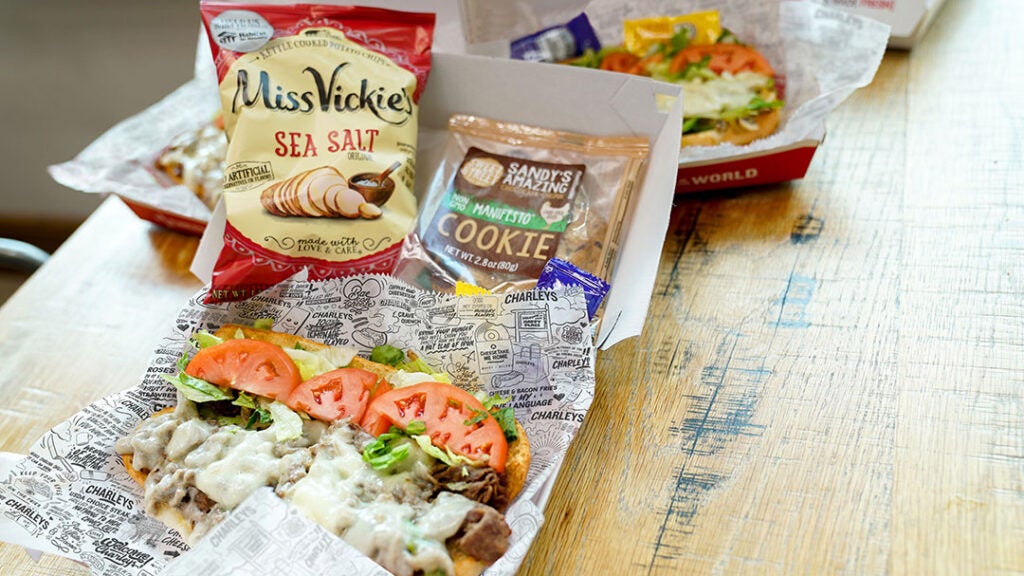 CAN REWARDS MEMBERS EARN POINTS FOR ORDERING CATERING?
Yes! Charleys Rewards members can not only earn points on catering orders, but also use banked dollars and select rewards. Just make sure you order through the Charleys app or are logged into your Rewards account if ordering through charleys.com. If you're not a Rewards member yet, don't miss out! Download and order through the Charleys Rewards app to get your points.
WHERE CAN I ORDER CHICKEN WINGS?
Select Charleys Philly Steaks locations around the country offer classic and boneless chicken wings as a catering option. Search for your nearest Charleys store to see if your local Charleys offers them!
Guests can choose between classic or boneless chicken wings, available in 30 piece and 50 piece packs. Enjoy your chicken wings tossed and coated in your choice of sauce or rub for preparation. Our sauces and dry rubs range from savory to spicy, zesty, and sweet.
WHAT ARE THE CHICKEN WING FLAVORS?
Chicken Wing sauces include: Buffalo, Bold BBQ, Sweet Teriyaki, Garlic Parmesan, Carolina Gold BBQ, Mango Habanero, and Thai Chili
Chicken Wing rubs include: Lemon Pepper and Cajun Rub
CAN I MIX AND MATCH CHARLEYS WING FLAVORS?
Guests can select between 1-3 sauces or dry rubs to enjoy on their chicken wings. Blue Cheese and Ranch are available on the side for an extra cost.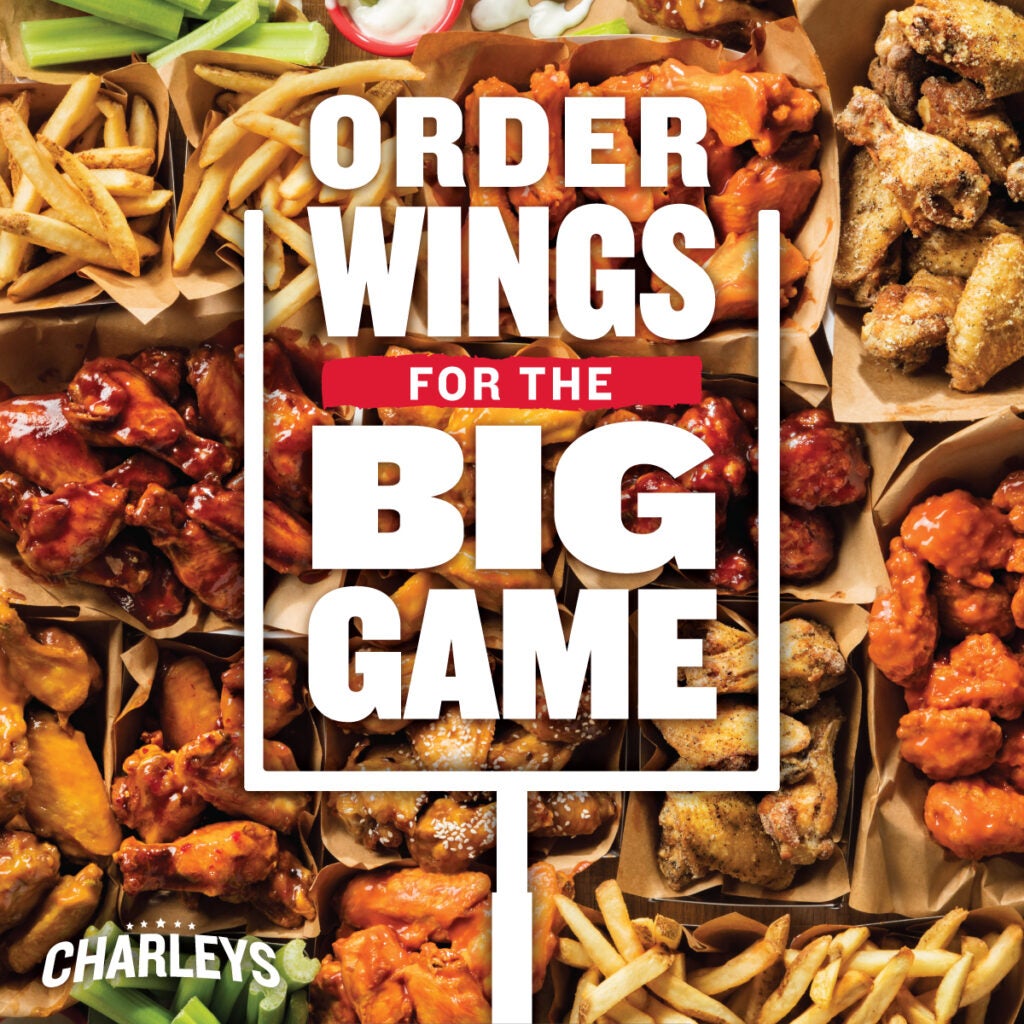 HOW CAN I PLACE A CHARLEYS CATERING ORDER?
Catering orders can be scheduled in advance for a designated pickup time, allowing for customers to skip the line, or enjoy their catering order delivered right to their door. All catering orders can be placed up to the day of the event, but guests are encouraged to order ahead or call their local Charleys ahead of time for large orders.
So, place a catering order, sit back, and enjoy the game! Whether or not your team wins, you'll score some delicious food.