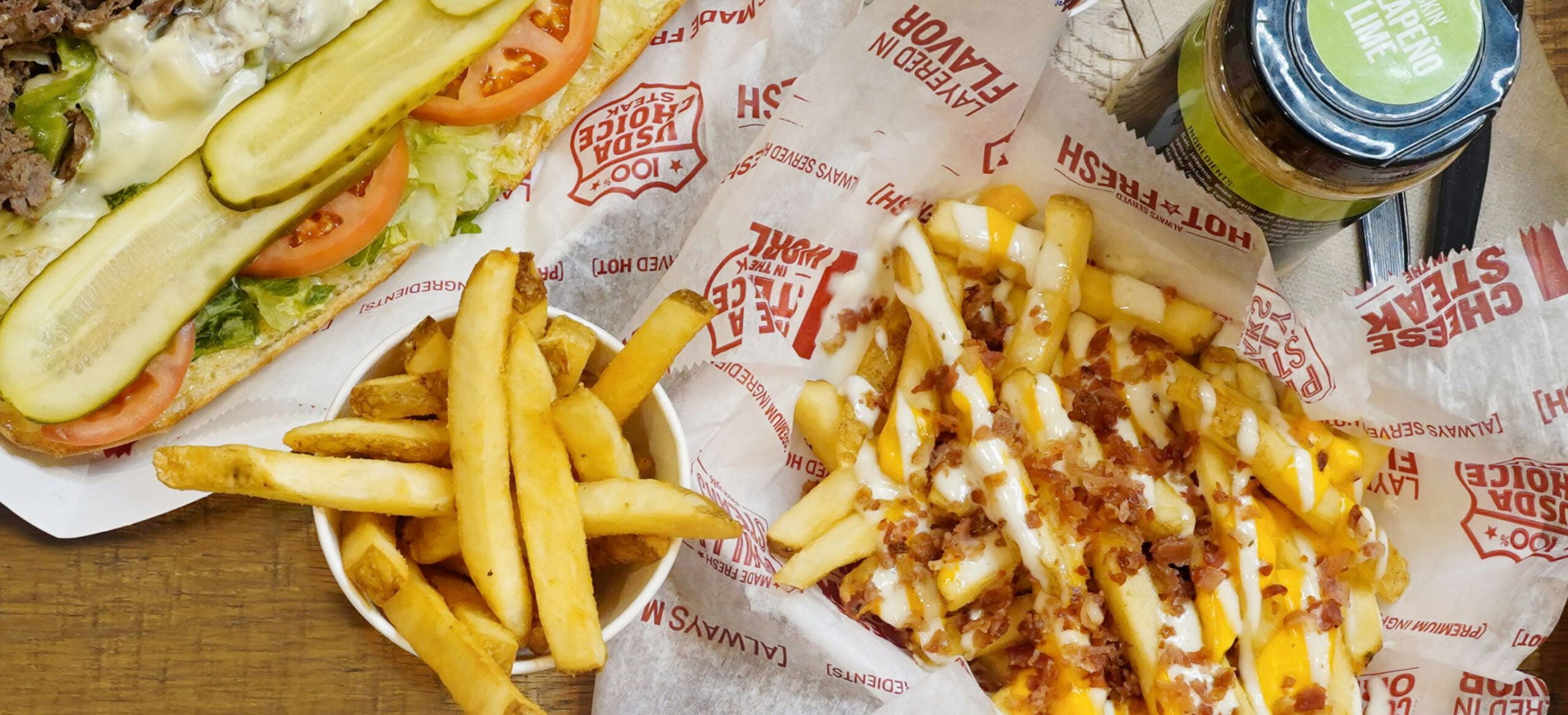 Zaragoza Marketplace
Chicken Wings
Ice Cream
1830 N Zaragoza Rd El Paso, TX 79936
| | |
| --- | --- |
| Sunday | 11:00AM - 10:00PM |
| Monday | 11:00AM - 9:00PM |
| Tuesday | 11:00AM - 9:00PM |
| Wednesday | 11:00AM - 9:00PM |
| Thursday | 11:00AM - 10:00PM |
| Friday | 11:00AM - 10:00PM |
| Saturday | 11:00AM - 10:00PM |
| | |
| --- | --- |
| Sunday | 11:00AM - 10:00PM |
| Monday | 11:00AM - 9:00PM |
| Tuesday | 11:00AM - 9:00PM |
| Wednesday | 11:00AM - 9:00PM |
| Thursday | 11:00AM - 10:00PM |
| Friday | 11:00AM - 10:00PM |
| Saturday | 11:00AM - 10:00PM |
Due to nationwide product shortages, this store may be temporarily out of lettuce. As a result, some items may be prepared differently.
Since 1986, Charleys Cheesesteaks has been serving fresh cheesesteaks, grilled to order. We use only premium ingredients like 100% USDA choice steak,  100% all-white meat chicken, all-natural cheeses, and hand-cut vegetables. We do more than cheesesteaks, too! Our menu features original and ultimate fries, fresh lemonades made with real-fruit (trust us, these are life-changing), and classic and boneless wings.  Charleys is the perfect way to satisfy your cravings. Feeding a group? Get Charleys catered!
Charleys at Zaragoza Marketplace is located near N Zaragoza Rd and Montwood Dr.