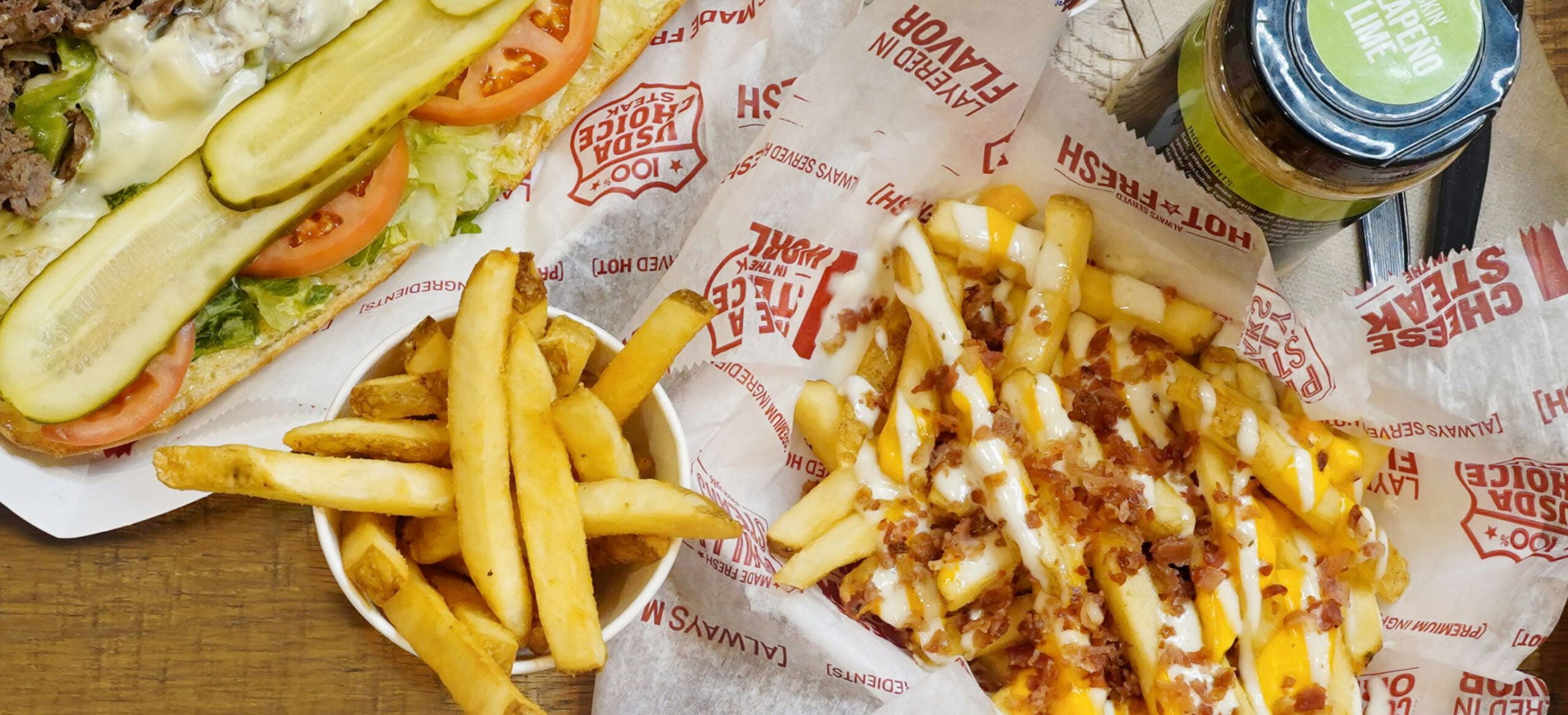 Walmart – Trinity Pkwy, CA
Chicken Wings
Ice Cream
10355 Trinity Pkwy Stockton, CA 95219
| | |
| --- | --- |
| Sunday | 10:00AM - 9:00PM |
| Monday | 10:00AM - 9:00PM |
| Tuesday | 10:00AM - 9:00PM |
| Wednesday | 10:00AM - 9:00PM |
| Thursday | 10:00AM - 9:00PM |
| Friday | 10:00AM - 9:00PM |
| Saturday | 10:00AM - 9:00PM |
| | |
| --- | --- |
| Sunday | 10:00AM - 9:00PM |
| Monday | 10:00AM - 9:00PM |
| Tuesday | 10:00AM - 9:00PM |
| Wednesday | 10:00AM - 9:00PM |
| Thursday | 10:00AM - 9:00PM |
| Friday | 10:00AM - 9:00PM |
| Saturday | 10:00AM - 9:00PM |
Use promo code 23GRAD at checkout to get 23% off any order of 30- or 50-piece boneless or classic wings! Available online only at participating locations while supplies last.
Since 1986, Charleys Cheesesteaks has been serving fresh cheesesteaks, grilled to order. We use only premium ingredients like 100% USDA choice steak*, 100% all-white meat chicken, all-natural cheeses, and hand-cut vegetables. We do more than cheesesteaks, too! Our menu features original and ultimate fries, fresh lemonades made with real-fruit (trust us, these are life-changing), and classic and boneless wings. Craving something sweet? We have shakes, sundaes, and soft-serve ice cream cones too.  Charleys is the perfect way to satisfy your cravings. Feeding a group? Get Charleys catered!
Charleys at Walmart – Trinity Pkwy, CA is located on Trinity Parkway just off the West Side Freeway and northwest of Cosumnes Dr. Stop by after a round of disc golf at Oak Grove Purple Disc Golf Course. While you're in town, you can also check out the historic Bob Hope Theatre.