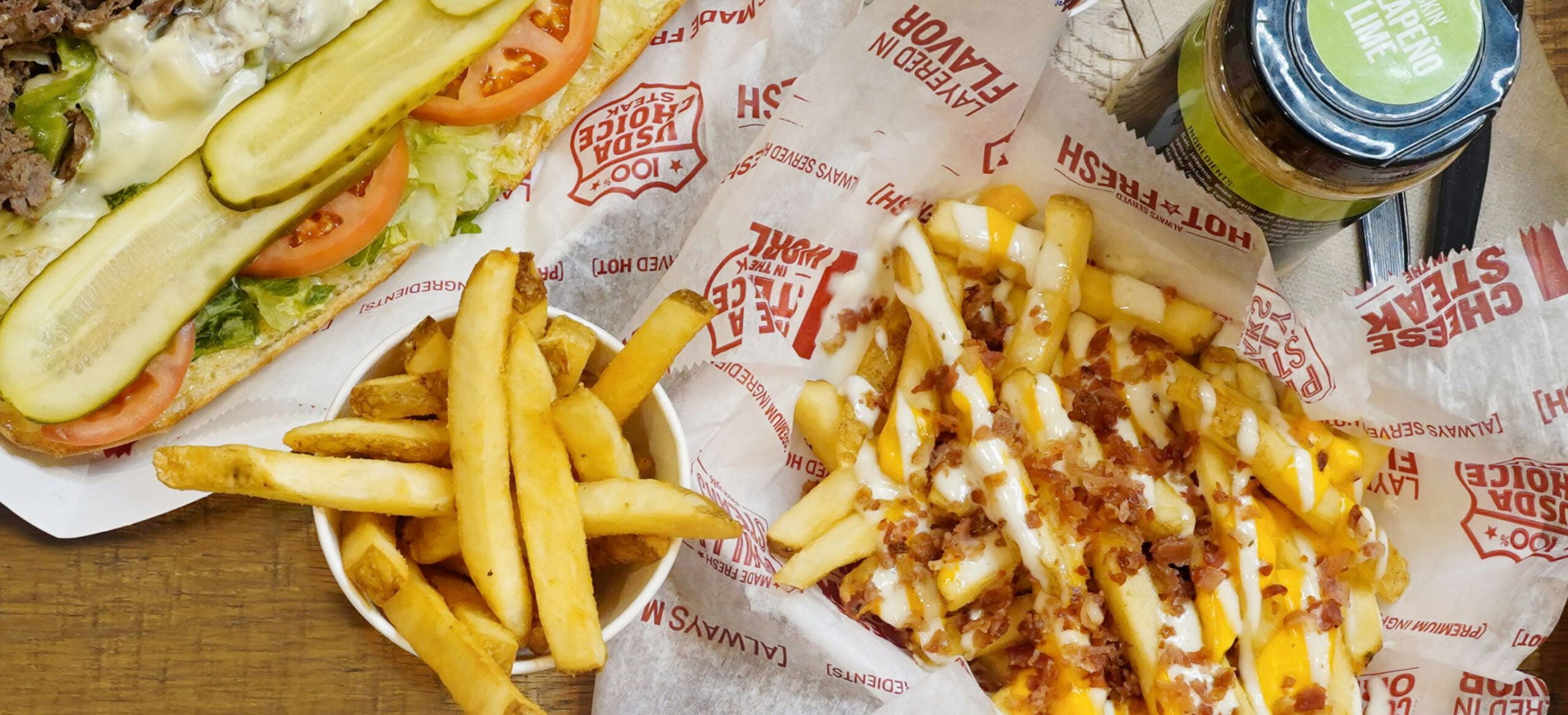 St. Louis Premium Outlets
18511 Outlet Blvd Chesterfield, MO 63005
| | |
| --- | --- |
| Sunday | 11:00AM - 6:00PM |
| Monday | 10:00AM - 7:00PM |
| Tuesday | 10:00AM - 7:00PM |
| Wednesday | 10:00AM - 7:00PM |
| Thursday | 10:00AM - 7:00PM |
| Friday | 10:00AM - 8:00PM |
| Saturday | 10:00AM - 8:00PM |
| | |
| --- | --- |
| Sunday | 11:00AM - 5:30PM |
| Monday | 10:00AM - 6:30PM |
| Tuesday | 10:00AM - 6:30PM |
| Wednesday | 10:00AM - 6:30PM |
| Thursday | 10:00AM - 6:30PM |
| Friday | 10:00AM - 7:30PM |
| Saturday | 10:00AM - 7:30PM |
Due to nationwide product shortages, this store may be temporarily out of lettuce. As a result, some items may be prepared differently.
Since 1986, Charleys Cheesesteaks has been serving fresh cheesesteaks, grilled to order. We use only premium ingredients like 100% USDA choice steak, 100% all-white meat chicken, all-natural cheeses, and hand-cut vegetables. We do more than cheesesteaks, too! Our menu features original and ultimate fries, plus fresh lemonades made with real-fruit (trust us, these are life-changing).  Charleys is the perfect way to satisfy your cravings. Feeding a group? Get Charleys catered!
Charleys at St. Louis Premium Outlets is located on Outlet Blvd. southwest of Avenue of the Saints. Stop by after visiting Spirit of St. Louis Airport or after a day of shopping at St. Louis Premium Outlets.