In September, we celebrated the openings of three new Charleys Philly Steaks locations, including new Charleys restaurants in Maryland, Florida, and Alabama. This includes new stores in a multi-restaurant concept at BITES Langley Park and a Walmart location in Hoover, Alabama. We are so excited to see new locations quenching cravings across the south and east coast. Come visit Charleys Cheesesteaks!
Charleys Philly Steaks and Wings – BITES Langley Park – Hyattsville, MD
Hyattsville, Maryland location is featured in the multi-restaurant concept BITES Langley Park. Located south of Lebanon St. near the intersection of New Hampshire Ave. and University Blvd. E., you can stop by for a cheesesteak or try a bowl or smoothie at one of BITES' other restaurant concepts.
Address:
8046 New Hampshire Ave
Hyattsville, MD 20783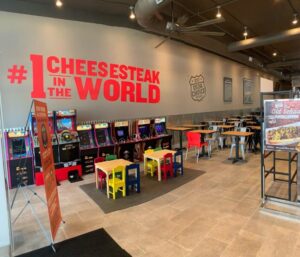 Follow Charleys Philly Steaks – BITES Langley Park on Facebook
Charleys Philly Steaks and Wings – San Jose Blvd. – Jacksonville, FL
Charles Philly Steaks and Wings in Jacksonville, Florida is serving up fresh cheesesteaks, fries, classic and boneless wings, and (of course) our real-fruit lemonades. You can stop by our newest Florida location on San Jose Blvd. just southwest of Pall Mall Dr.
Address:
9840 San Jose Blvd
Jacksonville, FL 32257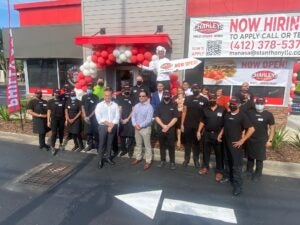 Follow Charleys Philly Steaks – San Jose Blvd. on Facebook
Charleys Philly Steaks and Wings – Hoover Walmart – Hoover, AL
Charleys Philly Steaks and Wings in Hoover, Alabama opened on September 30th! Our newest Charleys in Alabama is located in the Hoover Walmart on John Hawkins Parkway. While you're shopping, stop in for a quick bite (including our new frozen treats) or take home a meal for the family
Address:
2780 John Hawkins Pkwy
Hoover, AL 35244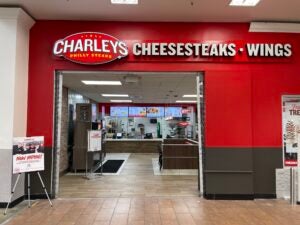 Follow Charleys Philly Steaks – Hoover Walmart on Facebook
Interested in owning your own Charleys Cheesesteaks? Learn how you can become a Charleys franchise owner at www.charleysfranchise.com