Calling all cheesesteak lovers! Charleys Cheesesteaks has once again elevated the art of sandwich making with our latest creation, the mouthwatering Bacon Chipotle Chicken Cheesesteak.
How is the Bacon Chipotle Cheesesteak made?
Brace yourself for an explosion of flavors that will leave your taste buds dancing with joy. You'll be tantalized by the savory combination of grilled all-white meat chicken, crispy bacon, sautéed onions, melted Pepper Jack cheese, paired with the irresistible kick of Chipotle Ranch sauce.
Are you ready to experience cheesesteak perfection? Let's dive right in!
Every bite is an opportunity to savor a medley of flavors, and this cheesesteak is no exception. This creation starts with grilled and seasoned all-white meat chicken. The addition of crispy sliced bacon brings a delightful crunch and a smoky aroma that perfectly complements the chicken.
To add a touch of sweetness and depth, sautéed onions added for a hint of richness that elevates the smoky flavor of the bacon. Pepper Jack cheese adds mild spiciness, melts seamlessly over the chicken, and creates a luscious and satisfying layer of cheesy goodness.
The pièce de résistance of the Bacon Chipotle Chicken Cheesesteak is the Chipotle Ranch sauce. This zesty sauce combines the smoky heat of chipotle peppers with the cool creaminess of ranch dressing, resulting in a flavor profile that is bold, tangy, and utterly addictive. It blankets the chicken, bacon, and onions, tying all the elements together in a harmonious symphony of taste.
To add a refreshing element to the Bacon Chipotle Chicken Cheesesteak, Charleys Cheesesteaks includes crisp lettuce and juicy tomato slices. These fresh ingredients not only provide a burst of vibrant color but also add a satisfying crunch that contrasts beautifully with the tender chicken and bacon.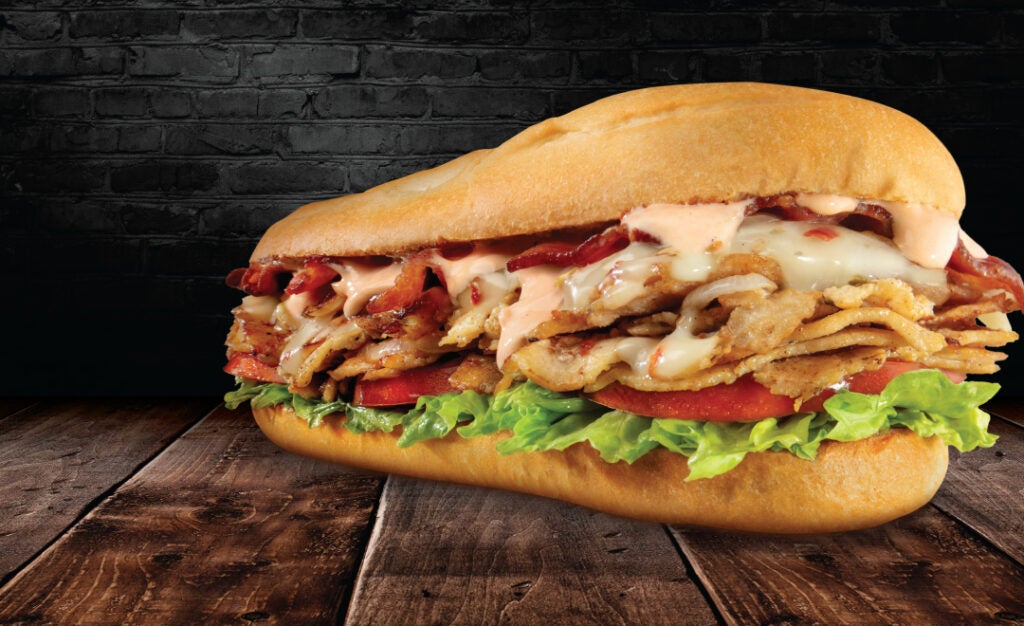 A Culinary Masterpiece
The Bacon Chipotle Chicken Cheesesteak embodies the essence of Charleys Cheesesteaks' commitment to quality ingredients, expert craftsmanship, and flavor innovation. With each bite, you'll experience the perfect balance of textures and a delightful interplay of savory, smoky, spicy, and tangy flavors. It's a culinary masterpiece that will leave you craving more.
Customization and Pairing Options
Charleys Cheesesteaks understands that individual preferences vary, and they are happy to accommodate your specific tastes. Feel free to customize your cheesesteak with additional toppings like jalapeños.
To complement your cheesesteak, Charleys Cheesesteaks offers a wide range of sides and beverages. Add a Gourmet Fries or pair this cheesesteak with a Barq's Root Beer.
Here for a Limited Time Only
The Bacon Chipotle Chicken Cheesesteak at Charleys Cheesesteaks is a game-changer in the world of sandwich artistry. With its perfectly grilled chicken, crispy bacon, sautéed onions, Pepper Jack cheese, Chipotle Ranch sauce, and fresh lettuce and tomato, it's a flavor explosion you won't want to miss. The Bacon Chipotle Chicken Cheesesteak is here for a limited time only in Summer 2023, so don't wait to try this savory, spicy masterpiece. Order one today!