This September, KIDS EAT FREE at Charleys! To celebrate the launch of our brand-new Kids Meal, we're offering a FREE Kids Meal with the purchase of any regular or large combo meal at Charleys!
The new Kids Meal at Charleys features the Lil' Cali Cheesesteak with your choice of hot grilled chicken or steak, Kids Fries, Kids Drink, and an Oreo 2-Pack. Charleys Cheesesteaks & Wings locations will also offer a 4-piece Boneless Wing option, along with an ice cream cone dessert option.
How to get a free Kids Meal at Charleys:
Just take a screenshot of the image below (this is important!) and show it to the cashier when you order in-store or in the drive-thru at any Charleys Cheesesteaks location. But keep reading – important details are below!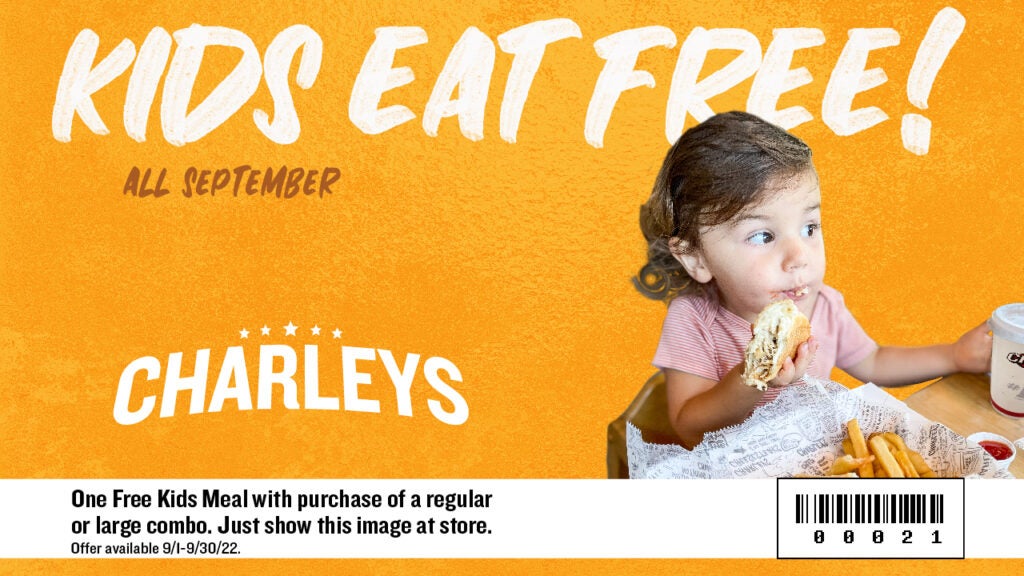 Don't forget to screenshot this image and present it at the register to get your free Kids Meal! You can also mention the code 00021 at checkout to redeem your offer.
How to place an order:
Orders must be placed in-store (including at the register or drive-thru.) This offer is not available online or through the Charleys Rewards app. A child must be present at purchase to get this offer.
Do I need to make a purchase?:
Yes – Our Kids Eat Free meal is available with the purchase of any Regular or Large cheesesteak combo meal. Each combo meal comes with your choice of cheesesteak, fry, and beverage.
What if I have more than one kid?:
This offer earns you one Kids Meal when you buy one combo meal. Buy two combo meals, get two! Please bring your child or children when you order.
What's in the Charleys Kids Meal?
Kids can choose their favorite Charleys offerings! All Charleys restaurants offer the Lil' Cali Cheesesteak (a kids' version of the California cheesesteak with your choice of chicken or steak, melted provolone, and ranch dressing on a toasted roll), a small order of original fries, a 2-pack of Oreo cookies, and your choice of drink. Select Charleys Cheesesteaks and Wings locations offer a 4-piece order of boneless wings an alternative to the Lil' Cali. Guests at select locations can choose between a 2-pack of Oreo cookies or a small soft-serve vanilla ice cream cone.
Is this for real?
Yes! Just be sure to show the Kids Eat Free coupon image above at checkout to get your free Kids' Meal! This offer ends September 31, 2022, so don't miss out!